To date, the main news on all channels is one - the onset of the coronavirus on all fronts, whose homeland has become China. The Russian Federation is stepping up precautionary measures, primarily at the points of arrival. And what are these methods, and what should be observed by the passengers themselves - we will consider below.
Is it possible to get coronavirus in the places of arrival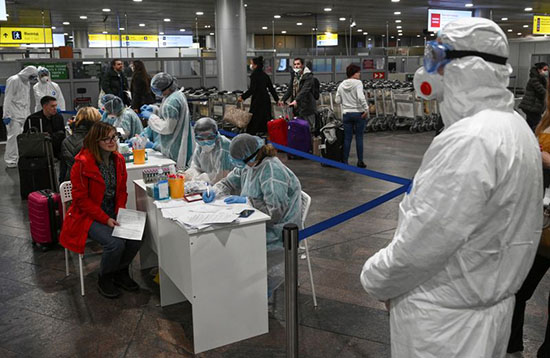 The main carriers of coronavirus infection from China to other regions are people who fly by plane. Some companies have already canceled flights to potentially dangerous countries and closed their borders. But still, if there is an urgent need, is it possible to get infected in the terminals and on the plane? What prevention is needed?
If the ticket was purchased in advance, it is necessary to monitor the situation, because there is a possibility that the flight may be canceled. But if this did not happen, then there is no need to go to the place of departure with a large temporary margin. Protect yourself from this side. Do not forget to put disinfectants and antibacterial wipes in your hand luggage.
Upon arrival, you do not need to stand in the thick of the crowd. In such a situation, not only coronavirus can get sick. It is better to move somewhere - be to the side. Put your gadgets in your hand luggage as well, it is not recommended to use them during the trip unless absolutely necessary. There is no urgent need to hurry with landing. It is better to go to the cabin of the aircraft among the last.
The easiest way to catch an infection is to be with a sick person in the cabin. It often happens that he himself does not suspect that he is sick. And one flying is enough for everyone to start getting sick.
But if, for example, the passenger seat is next to the porthole, and not with the passage, the risk of infection is much less. After all, people are always moving at the aisle, and when sneezing, drops with virus particles scatter very far.
Now, before the flight, aircraft cabins are treated with a disinfectant solution. But the caution of people does not hurt. To do this, you need to be in a mask, change it every couple of hours. Before going to the toilet, it is better to wipe the door handle with a damp cloth, and then wash your hands thoroughly. Do not touch your face with your hands. Without a goal to walk around the cabin, it's not worth it. If suddenly the state of health began to deteriorate, then it is better to inform the aircraft personnel about this.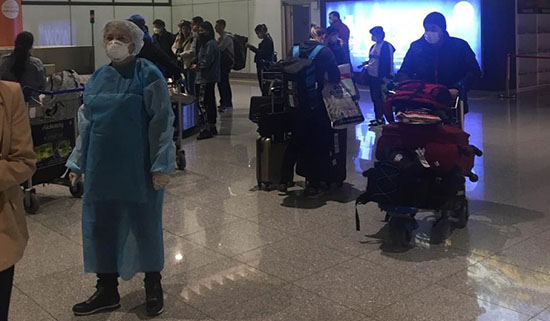 It is worth saying that the board team is also under certain protection. They are given disposable masks, disposable medical gloves.
Does coronavirus screening work at arrival points
In Russia, all guests arriving from abroad are now being checked at the airport for coronavirus. Absolutely every passenger is checked for the presence of elevated temperature with a thermal imager, they are interested in the general condition of each foreigner, Russian who has arrived.
If the patient feels well, he does not have any symptoms, then he is released for a two-week home quarantine.
If, suddenly, one of the passengers is found to be unwell or has a fever, then a more thorough examination is necessary. For this, specialists of a particular profile examine it and interrogate it in detail. A patient with signs of coronavirus is hospitalized in infectious diseases hospitals, where they receive appropriate treatment.
If certain suspicions of illness arise, the entire aircraft is placed in quarantine. But so far no such cases have been recorded at Russian airports.
Since the beginning of March, Aeroflot has redirected all its flights from Korea, Iran, China, Italy, and other countries that are still dangerous to the F hall of the Sheremetyevo terminal. Upon arrival, passengers are carefully examined, they are not detained for a long time, they are released without visible signs, giving out masks to everyone. Moreover, they check everyone: foreigners, Russians.  
Moscow
A number of additional actions have been organized at the Moscow arrival points - Sheremetyevo and Domodedovo:
For medical manipulations, first of all, the premises are equipped with thermal imagers, special rooms have been allocated for employees of Rospotrebnadzor. All areas of the building are treated with a special disinfectant solution. In the premises there are sound boards broadcasting information about the disease, about preventive measures, the goals and stages of checking each.
If signs of illness are found, people are taken to the Domodedovo Central Hospital or to Hospital No. 1 by special transport.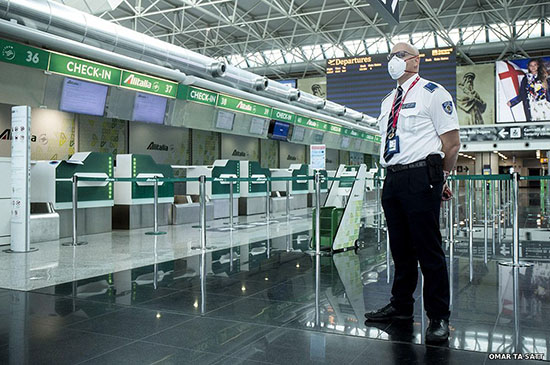 Saint Petersburg
Enhanced precautionary measures in the terminals of St. Petersburg are the same as in the capital. Hourly monitoring of morbidity among the population is carried out, including people who have arrived from countries that are unfavorable in terms of the situation. Those arrivals who seek medical help two weeks after arrival are monitored. All applicants for help undergo a thorough examination. If necessary, isolated boxes are ready for everyone.
Regional airports
The airports of the regions also carry out all actions to prevent the spread of the disease to the territory of Russia, as well as the capital's terminals. In every city where there are airstrips, special boxes are equipped for hospitalization of seriously ill patients. All terminals are thoroughly sanitized. People receive detailed and reliable information about the number of cases, steps for prevention.
How coronavirus is checked at terminals  
Security checks at the airport due to the coronavirus take place in a few minutes. If everything is in order with a person, he is not detained for a long time. One person, dressed in a protective suit with a mask on his face, examines all those who arrived at the first stage. Inspection takes place in a non-contact way.
After that, employees of Rospotrebnadzor ask each person to fill out a questionnaire coming to the territory of the Russian Federation, where they indicate all the information about themselves. These are personal matters, the date of entry and exit, the presence or absence of illness. It is also worth indicating information about where the person will be during quarantine - the exact address and phone number.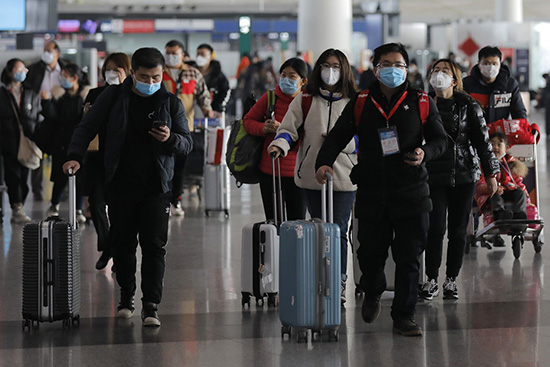 If a specialist has certain suspicions, then temperature measurements are taken more than once.
If a person's temperature rises on board the aircraft, he remains in the cabin until the ambulance arrives. He was immediately sent to a specialized department.
The Russian Federation has taken all measures at airports against the coronavirus. So far, the flow of sick people has been contained. In the country, compared with other regions, there are not so many patients yet. Therefore, it remains to be said that all the protection options undertaken give positive results.